Having designed a ball mill in 1883 Friedrich Fischer had allowed machines to produce high precision steel balls. These could be produced in very large quantities from his factory in Schweinfurt, Germany. Many see this as the start of the rolling bearing industry. And it wasn't long before such items had widespread global success. Racing through the years by producing continued quality FAG has built a fantastic reputation for quality. This reputation led to them being acquired by INA Holding Schaeffler KG in 2001. FAG has understandably remained a significant part of the Schaeffler Group. The applications for FAG bearings range from aerospace applications to larger size bearings used for wind turbines.

Founded in 1946 the company achieved an industrial breakthrough in 1949 with the invention of the needle roller and cage assembly by Georg Schaeffler. Famously the plain bearing previously used was replaced by an INA needle roller bearings in the transmission of a VW Beetle from 1952. Currently INA rolling bearings and linear technology are recognised by their high level of quality and reliability.

Nippon Thompson was formed in 1950, during this period the company has made a number of acquisitions and developed a wealth of experience that it uses to develop innovative products. Operating under the brand name IKO the company has a global reputation for high quality and originality. The three main specialities offered are: needle roller bearings, linear motion products and mechatronic products. These products are manufactured at 9 sites in Japan and sold throughout the world.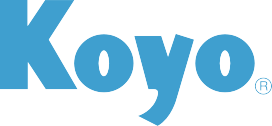 Koyo is the bearing brand of the JTEKT Corporation. The range offered is from 7 metre Outside Diameter bearings through to miniatures with Inner Diameters as small as 1 millimetre. Due to technological advancements and the latest manufacturing techniques JTEKT have developed hybrid ceramic bearings and many special environment bearings to me the demands of modern industry.

NSK is one of the largest bearing companies in the world, employing in excess of 30,500 across the globe in over 60 production plants. They manufacture a wide range of bearings form miniatures with a 1mm bore through to bearings with a 5 metre diameter. The company are world leaders in Research and Development and has invested more than $97 million in this area. Specialising in all categories of bearings they are renowned for quality and precision. Their Super/High precision range is used across the globe by major manufacturers in all industries.

RHP Bearings were established in 1969 but have a history dating back over 100 years. The merger of three manufacturers (Ransome & Marles (R), Hoffman (H) and Pollard (P)) created one of the world's leading bearing companies. Ransome & Marles, formed in Newark in 1900, soon established themselves as a world leading manufacturer of ball and roller bearings. Hoffman Bearings, established in Chelmsford in 1898 rapidly grew and gained a strong reputation for precision bearings. Pollard Bearings were formed in 1919 in Ferrybridge and is famously remembered for the invention of the self-locking nut. Then finally in 1990 NSK took overall control of RHP forming NSK-RHP Ltd now known as NSK (Europe) Ltd.

NTN was born in 1918 when Noboru Niwa, whose company Tomoe Trading Co joined forces with engineer Jiro Nishizono to design and manufacture the first NTN ball bearing. Renowned for quality NTN were the first Japanese industrial manufacturer to receive the prestigious Deming prize for statistical quality control in 1954. NTN expanded in to Europe in the1960s and then into America in 1963. Specialising in ball bearings, spherical rollers, taper bearings and cylindrical rollers NTN offer a vast range for all industry sectors.

Quality Bearings Online started production of its own Brand QBL in 2013, its state of art factory in China offers a full range of Bearings from Deep Grove Ball Bearings with a Bore size as small as 1mm to Spherical Roller Bearings at over 3 meter diameter.
The QBL brand is developing a name for quality and value. All Bearings are produced to our extremely high standards and meet the exacting requirements for ISO 9002 testing.
These quality bearings offer a great value alternative to better known brands.
QBL is 'Keeping the World Turning'.

Founded in 1907 SKF has built a reputation unrivalled on the bearing industry. By 1910 the company expanded from it Swedish routes in to the UK. This rapid growth continued even further as by 1930 SKF employed over 21,000 staff and had 12 manufacturing facilities across the globe. Currently SKF employ over 44,000 and manufacture in over 100 sites spanning 70 countries, resulting in SKF being the largest bearing manufacturer in the world. SKF customers include Rolls Royce, General Electric and Quality Bearings Online Ltd. Offering an enormous range of bearings and related engineering components SKF can provide a solution for every engineering process.

Timken Bearings are the leading authority on tapered roller bearings. Having many years of experience their knowledge of metallurgy, tribology and mechanical power transmission results in continuous production of premium quality bearings. Turning over in-excess of $3.1 billion in Sales, employing over 14,000 people and operating from 28 countries.

Shell or Royal Dutch Shell plc, is a global group of energy and petrochemical companies, divided into several different operations. The Upstream organiisation manages the extraction of crude oil and natural gas, while the New Energies organisation is focused on new fuels, such as biofuels and low carbon sources of power. Employing over 86000 people across 70 different countries, mean shell are the sixth largest company in the world

Dow Corning is an American multinational corporation, originally established between the Dow Chemical Company and Corning Incorporated, a glass and ceramics specialist. Now owned by DowDuPont, the company specialises in silicone and silicon-based technology and is the largest silicone product producer in the world.

A Subsidery of Dow Corning, Molykote has been a trusted worldwide brand for over 60 years providing grease, coatings and other lubricants for reliable performance under arduous operating conditions.

Loctite is an adhesives, sealant and surface treatment specialist. Owned by the German chemical company, Henkel. this German-owned American brand that supply household adhesives, epoxies, spray adhesives, construction adhesives and home repair, sealants and fillers.